Hey friends! Hope you had a great start into October so far!
I've been enjoying a lovely sunny day today, beginning with class in the morning and a nice walk along the beautiful seawall in the afternoon, after my son woke up from his nap.
It's Wednesday, and that means it's time for another WIAW post over here.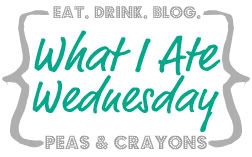 I'm in the middle of studying for a midterm exam next week and I have to write a report for another class, so unfortunately eats haven't been very creative. Add a case of the lazybones to the mix (I hate grocery shopping, especially if it's nice outside…) and we're stuck with what's in the fridge. Which actually is full, but I'm not really inspired to make anything out of it…
Breakfast/Brunch: Coffee to go from UBC's Blue Chip Cookies (I also picked up an unpictured Brazil Crunch cookie to share with my guys at home later – it was gone too fast);
also: unpictured cheese sandwich (whole wheat bread, cheddar, cucumber) eaten during class.
Snack: Yogurt and Granola  from last months Foodie Penpals package and organic raspberries from Saturday's trip to the farmers market
My 13-month old's snack plate looked similar: organic farmers market peaches (remember, they are part of the dirty dozen, so we try to only buy the organic version – especially if they are meant to be eaten by the little guy; also, they taste a lot better when local and in season in my opinion…), raspberries and a cream cheese sandwich cut in bite-size pieces.
Lunch: WF hot bar shared with the little guy – sorry, forgot to take a picture, but we had greens, turkey (for Mr. Hungry), beans, roasted potatoes, cucumber and miso dressing
Dinner: Butternut Squash and Bean Quesadilla with roasted potatoes, herbed yogurt dip and Mr's Renfro's Mango Habanero Salsa (<- as I was checking their website, I was surprised to see tons of other flavours! The Ghost Pepper Salsa sounds like something I'd love to try – - from the Mr's Renfro's website.: "The ghost pepper takes on many forms – pepper spray, hand grenades, smoke bombs…and now salsa!"  Plus, they are obviously so much cheaper in the states…)
Well, if you excuse me, but I'm off to study for my exam and catch up on readings, while munching on some nachos and more Mango Habanero Salsa.
What are your plans for this mid-week evening?