Happy Wednesday!
We have a little nap ditcher at home, so blogging time is hard to come by these days. And the little energy ball is only 2 years and 3 months. It's definitely way to early (for me) that he is starting to phase out his naps, but each child is so different. We have to come up with new routines, so that I can get back into blogging a bit more regularly. Hopefully. Wish us luck.
I thought I'd (finally!) share some of our CSA box contents with you. It's been amazing, to get a huge box full of greens, fresh herbs, fruit and veggies, delivered almost to our home (they drop at the Mr.'s office).
For the past few months we've always had a bag of at least 8 oranges. Fresh orange juice has gotten a whole new meaning, as these oranges are fresh from the trees. Bonus: our 2 year-old will sometimes find one when he's rummaging in the fridge, take it out, run to one of us, and say "juicy juicy please!" – my heart melts that he knows where orange juice comes from!
There's at least one bunch of greens (kale/chard) or lettuce, but most often two.
Fresh fruit: peaches, oranges, limes, apples, grapes, dates, avocados – it is amazing!
Veggies: Summer squash, zucchini, beans, bell peppers, spicy peppers, fennel, eggplant, onion, potatoes, sweet potatoes and I'm probably forgetting a few.
Fresh herbs: dill, parsley, rosemary
We pay $30 every two weeks and we get a two week's worth of local, organic (!!!) produce. Take that, Whole Foods!
And since it's What I Ate Wednesday party time over at Peas & Crayons (Thanks, Jenn!) I decided to link up a few meals I came up with with this abundance of freshness. It's been a while and I'm excited to be back.
Green Baked Eggs:
Tomato Soup + obligatory grilled cheese:
Greens in ALL THE MEALS:
One of my favorite ways to use parsley lately is putting it on scrambled eggs. The other dishes are simple roasted potatoes with a herby Greek yogurt dip, and an always yummy avocado and eggs toast.
What are your favorite ways to use fresh herbs? I love fresh parsley and dill dip, tzatziki, parsley on eggs, and even in a  green juice.
With Thanksgiving coming up here, do you have any foods you are especially looking forward to? We're keeping it low-key this year, as we just moved here a few months ago, and being a German/Swedish family, we don't really care much for turkey and the works. *GASP* I know, shocking, right?
We're just looking forward to a few relaxing days and maybe, maybe some shopping on Friday.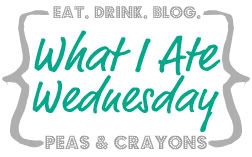 Thanks for stopping by and don't forget to check out some other Wednesday Eats over at Peas & Crayons!