I'm joining the What I Ate Wednesday party again today, by linking up with Jenn from Peas & Crayons.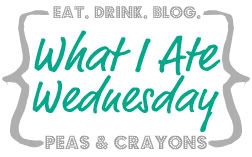 But first I wanted to apologize that this little recipe didn't get posted on Monday, as I promised on Twitter last week. Oops!
Apple-Quinoa Mini Muffins
It's a wheat-free and toddler-approved snack, perfect for little hands to grab and munch on the go.
Ingredients:
1 c cooked quinoa
1 c oat flour
1 t baking powder
dash of salt
1/3 c brown sugar
1 container apple sauce
1 egg
1 T vanilla extract
1 t cinnamon
1 small apple (pink lady), peeled and chopped into small pieces
Making them is so easy:
Preheat oven to 375° F.
Mix the oat flour, baking powder and salt together.
In a separate bowl, mix the remaining ingredients, except for the quinoa and apple.
Fold dry ingredients into wet mix and stir until well combined.
Add cooked quinoa and apples and gently mix together.
Pour batter into a greased (and lined , if you like) mini muffin dish and bake for about 20 minutes.
I forgot to take pictures with our camera, so all I've got for you is the above cell phone pic. #foodblogfail
But let me assure you, these puppies were devoured by my toddler!
In addition to keeping healthy snacks around, I have been trying to keep things quick and simple in the kitchen. Here are yesterday's eats:
B: Oatmeal with banana, cherries and chocolate chippies
Snacks: yogurt + fresh organic strawberries, organic peach (both are on the dirty dozen list, so I try and buy organic when I can)
L: Tuna salad on an whole wheat English muffin, snap peas
Toddler snackage:
Snap peas, cucumber, hummus and blueberries, eaten on the patio.
Dinner:
Quick and easy southwestern quinoa salad (recipe coming soon).
Your turn: What were your eats from the day? Anything fun and healthy?
We just came back from the beach, so I'm off to wash the sand off my toes as long as the little guy is napping!
Happy Hump Day!